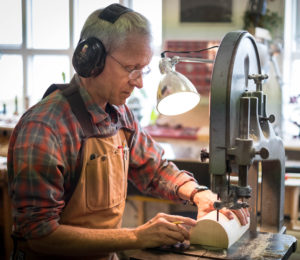 Bernd Ogrodnik has been a prominent figure in the world of puppetry since 1986. He is the artistic director and co-founder of "Worlds of Puppets" and serves as the Master Puppeteer for the National Theater of Iceland.
He has a track record of over 7000 live performances and has toured all over Europe, Canada, the USA, Africa, and Asia as a performer and lecturer at international (puppet-) theater festivals, universities, and conferences.
He has been performing, directing, and creating marionettes, puppets, and masks for various theaters and operas around the world, for collectors and museums, commercials, TV, and film.
He has been creating marionettes, puppets, and masks for stages around the world, and his work is frequently featured on TV and film.
Bernd has gained worldwide reputation also through his ground-breaking work as a designer and lead puppeteer for the groundbreaking marionette movie "Strings".
He is the recipient of countless prizes and awards both in his home country Iceland and internationally.