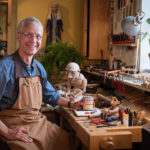 In our Online Courses, I not only pass on my personal approach towards puppetry and what I consider to be the backbone for a successful and fulfilling career but also offer detailed instructions in constructing the innovative control systems I have developed over the years, for projects like the epic marionette movie "Strings" or my trademark performance Metamorphosis.
We are so excited about the tremendous response to our online classes: Students from over 80 countries have already participated in our programs and our community of devoted puppet builders is constantly growing. I am so grateful for this opportunity to share with everyone interested in my experiences, "secrets" and discoveries of an illustrious career spanning 35 years.
Click the links below for more information about our courses.